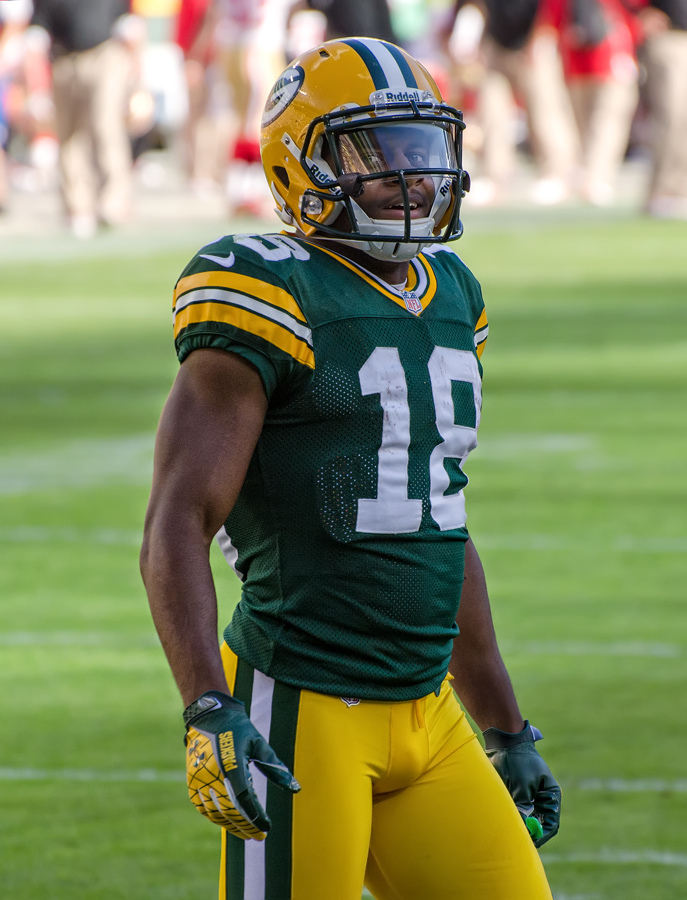 The Dallas Cowboys have finally started to make a little noise in free agency. They had added some defensive line depth by signing DT Christian Covington and DE Kerry Hyder Jr. They had also brought back some additional depth pieces such as WR/PR Tavon Austin, OT Cameron Fleming, FB Jamize Olawale, LB Justin March-Lillard, DT Daniel Ross, and S Darian Thompson. Not to mention they also brought back out of retirement future Hall of Fame TE Jason Witten on a one year deal. But, until they secured former Pro Bowl receiver WR Randall Cobb, many Cowboy fans felt that they were not being active enough in free agency.
The Dallas Cowboys have stayed true to their philosophy of not overpaying for free agents but instead bargain shopping to fill holes on their roster. They hope to continue the successful strategy of building depth prior to the draft so that they are free to draft the best player available instead of being handcuffed by obvious needs. While this method has worked well in order for them to build their roster, this season is different. The Cowboys have only a small window to be somewhat aggressive in the offseason while Dak Prescott is still playing on his rookie deal. Once they sign Prescott and other star players like Ezekiel Elliott, Demarcus Lawrence, Amari Cooper and others, the Dallas Cowboys will be limited in how they can build their team through free agency.
Bringing back Jason Witten and signing Randall Cobb shows how the Dallas Cowboys are trying to stay aggressive but still limit expenditures. They are targeting players that may be a little older or have significant injury histories yet still bring experience and upside. Safeties Eric Berry and Clayton Geathers are other examples of players the Cowboys are considering. Recently, another players name has been mentioned in connection to the Dallas Cowboys.
Robert Quinn was spotted today on his way to visit the #Cowboys, who are in trade talks with the #Dolphins for the veteran DE, sources say. Quinn would need to agree to any deal. So, this is another step in the process, with a Dallas team that obviously needs pass rush.— Tom Pelissero (@TomPelissero) March 19, 2019
That move would appear to make perfect sense for the Dallas Cowboys. Robert Quinn, a right Defensive End, would slide right in to replace the suspended Randy Gregory and be an excellent compliment to DeMarcus Lawrence. At first glance that would be the most logical explanation. However there could be more to this than meets the eye. Last season, after failing to bring in WR Sammy Watkins, the Cowboys brought in Allen Hurns instead. Hurns was advertised as being a compliment to Dez Bryant but then the Cowboys shockingly cut Bryant well into the free agency period and very close to the NFL draft. Could the interest in a legitimate pass rusher such as Quinn foreshadow an equally shocking move on the Cowboys part in 2019?
Think about the DeMarcus Lawrence situation as it stands right now. The Cowboys want to sign him long term and Lawrence wants to stay in Dallas with a long term contract. Despite this common interest, the two sides have yet to reach a deal. In fact, it was reported that they were far apart in their negotiations. Lawrence has played one year under the franchise tag and he feels he has earned the right to collect a contract in the range of Khalil Mack money. The Dallas Cowboys want to secure the services of their best pass rusher but still work out deals for their other stars, namely their franchise QB Dak Prescott. It may be entirely possible that the two sides are not able to come to a mutually beneficial agreement.
The Cowboys have some decisions to make. They cannot realistically expect to sign DeMarcus Lawrence, Dak Prescott, Ezekiel Elliott, Amari Cooper, Byron Jones, Jaylon Smith, Leighton Vander Esch, and continue to afford an offensive line full of All Pro's and 1st round talent. Something has to give and maybe that something is their best defensive player. Lawrence is a team leader, their best pass rusher and a stout run defender. His future is bright but he may have had his best season as a professional in 2017. His value will never be as high as it is right now and if the Dallas Cowboys did field trade offers, a package that would include a 1st round draft pick and more is the likely compensation. That being the case, it is possible that the Cowboys are planning for the contingency that they cannot sign Lawrence and need to add a player who is a capable pass rusher to try to replace him.
Hopefully, a contract is negotiated between the Cowboys and Lawrence quickly and a lengthy contract dispute is avoided. But, I would keep a watchful eye over the next few weeks. The Dallas Cowboys have proved with Dez Bryant, Dan Bailey, Amari Cooper, and Jason Witten that they are capable of making unexpected and inconceivable decisions. Furthermore, the recent trades of Khalil Mack and Odell Beckham JR have proven that no player is untouchable.
*Photo by Mike Morbeck https://creativecommons.org/licenses/by-sa/2.0/legalcode