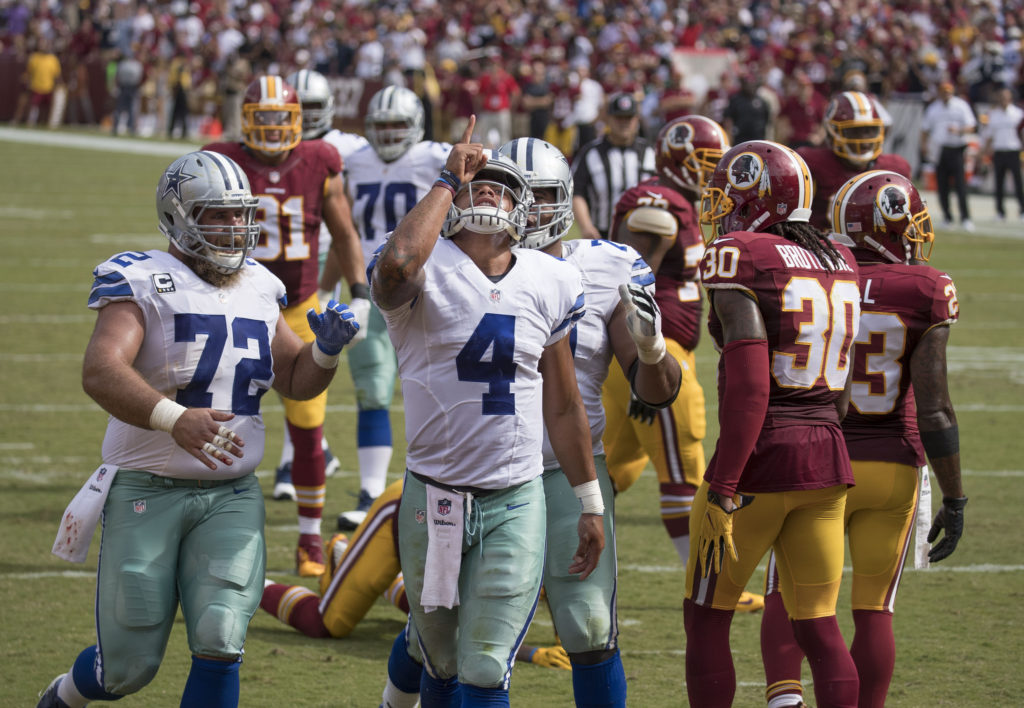 If you are a fan of the Dallas Cowboys chances are that you fall into one of 2 categories.  The first is the group that believe that Dak Prescott IS the franchise QB of the Dallas Cowboys and should be secured to a lucrative contract at the conclusion of his rookie deal.  The second are the Dak Prescott critics who believe that the Cowboys should look to find his replacement before they invest any long term money in the young QB.  What neither group of fans can deny is that regardless of the opinion of the fans, Dak Prescott WILL be extended and given the opportunity to prove himself for several years.  The real dilemma then isn't whether to extend him or not but instead in figuring out how much Dak Prescott's contract should be worth and how many years he should be extended.
In my opinion, the decision to extend him is the correct one.  Dak Prescott may have struggled at times and he may have his limitations but he is a young quarterback and has only ever been coached by one Jason Garrett.  Garrett may have removed himself from the hot seat this season but he has not proven to be a quarterback whisperer during his career and OC Scott Linehan has not been a great fit for the Dallas Cowboys offense either.  What Dak Prescott has shown in his short career is the ability to win games.  He was won 30 of his 45 starts which is better than everybody not named Tom Brady during that time span.  He has not won all of those games with the most talented team or the best coached team but he has done so with great poise, leadership, grit and determination.  Say what you will about Dak's accuracy or pocket presence but no one can deny that he is a warrior and that his teammates respect him and play hard for him.  The standard that fans hold Dak Prescott to is unfair.  They compare him to hall of famers like Tom Brady and Drew Brees and fail to acknowledge how rare it is to find QB's of that pedigree.  They look to other young QB's like Patrick Mahomes, Carson Wentz and Jarred Goff and they ignore the fact that none of them have attained prolonged success and none of them have ever won a playoff game to date.  Then they look to the NFL draft and fail to acknowledge that the vast majority of QB's drafted end up being busts or at best mediocre.  Finding a QB that is capable of leading your franchise is difficult.  When you find one you keep him and you ride it out with them through the success and the struggles.  You take your chances and hope that they develop into something special.  What you don't do is cut your losses at the first sign of trouble which is exactly what some fans are willing to do.  Signing Dak Prescott to a long term contract is the right decision.  It is the only decision.  But, the question that beg's answering is…for how much money?
In consideration of Dak Prescott's contract extension there are essentially two schools of thought.  There is the market value VS the team friendly approach.  The market value is simply based on the high demand of the QB position.  A franchise QB is a commodity not afforded to all NFL teams.  Everybody wants one and not everybody has one.  Everybody needs one so the price to obtain one is inflated.  Matt Ryan, Matthew Stafford, Jimmy Garoppolo, and Kirk Cousins were not considered the best QB's in the NFL before they signed their long term contracts but they are among the highest paid at their position simply because they were the next contract up and the demand was high.  The Dallas Cowboys could approach signing Dak Prescott the same way and simply pay market value to secure the player that they believe is their franchise QB.  I for one hope that they do not take this approach.  The Dallas Cowboys have a young team and have some elite talent but in order to keep that talent they are obligated to secure the services of players such as DeMarcus Lawrence, Amari Cooper, Byron Jones and Ezekiel Elliott not withstanding the money they already have invested in the offensive line that is eating up valuable salary cap space.  The salary cap is steadily increasing but so are the sizes of the contracts for the pass rushers, lock down corners, #1 wide receivers and elite running backs.
The Dallas Cowboys would be much better off trying to secure Dak Prescott on a team friendly deal that would allow them to spend the money necessary to retain their elite talent.  That is what the New England Patriots have done with Tom Brady and his desire to win has allowed for that.  Time will tell if Dak Prescott is willing to do the same thing in order to help his team win football games.  The most important thing for Dak Prescott, and any player for that matter is financial security but the highest paying contract is not the only way to achieve this.  The celebrity associated with being the starting QB for the Dallas Cowboys allows for greater opportunities for endorsements than it would if Dak Prescott landed in say…Jacksonville.  In reality, Dak Prescott needs the Dallas Cowboys as much as the Dallas Cowboys need Dak Prescott.
The next question to consider in negotiating Dak Prescott's contract would be for how long?  If the Dallas Cowboys and Dak Prescott would seriously consider a team friendly deal then it would have to be a significantly longer deal than if they were to instead chose the market value approach.  The appeal of long term security would benefit Dak Prescott but it would also be beneficial for the Dallas Cowboys in order to limit inflation and spread the salary cap hit over a longer period of time.  This approach has a greater deal of risk associated with it if in fact Dak Prescott continues to regress and the Dallas Cowboys do not compete for a Super Bowl in the next few years.  It would make it much more difficult to overhaul the organization if you have significant money invested in your quarterback over several years and also paid the rest of the aforementioned superstars that are on expiring rookie deals as well.  Having all that money tied up would set the organization back for many years just as it did at the beginning of Jason Garrett's tenure.  These however, are the necessary risks you have to make if you believe you have a legitimate shot to compete for Super Bowls with the young talent on this team.
The final consideration in regards to Dak Prescott's contract is when should the Dallas Cowboys sign him?  It may seem prudent to wait it out until his rookie deal expires in order to get as much information as possible before taking the plunge.  This approach is typically unwise as it is exactly how the Washington Redskins failed with Kirk Cousins.  Cousins may not have shown himself to be an elite QB but he is a very good one and the Redskins could have secured his services at a discount three years ago but chose to slap him with the franchise tag 2 years in a row.  That lack of commitment rubbed Cousins the wrong way and the decision cost the Redskins dearly. Washington has now transitioned from QB purgatory to QB hell after throwing significant money on an aging Alex Smith, a guy whose career may be over now after suffering a gruesome leg injury.  It would be unwise for the Dallas Cowboys to make the same mistake because even if Dak Prescott does not show significant improvement from now until his contract expires, his market value will not plummet but will at worst remain at it's current value.  In contrast, if he continues on this upward trajectory that he has been riding ever since the Amari Cooper trade, his market value could increase significantly.  It is much Better to buy in to Dak Prescott now while there is still some doubt and reservations because he is only going to get better and the market value is only going to increase as time goes on.
All Data and Statistics obtained and verified through https://www.pro-football-reference.com/
*Photo by Kieth Allison https://creativecommons.org/licenses/by-sa/2.0/legalcode